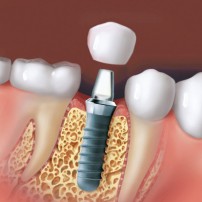 In the event that a tooth cannot be saved by performing endodontic procedures, dental implants are a great option in restoring a tooth that might not otherwise be restorable. A dental implant is a "root" device, usually made of titanium, used in dentistry to support restorations that resemble a tooth or group of teeth to replace missing teeth.
Virtually all dental implants placed today are root-form endosseous implants, i.e., they appear similar to an actual tooth root (and thus possess a "root-form") and are placed within the bone (endo- being the Greek prefix for "in" and osseous referring to "bone"). The bone of the jaw accepts and osseointegrates with the titanium post. Osseointegration refers to the fusion of the implant surface with the surrounding bone. Dental implants will fuse with bone, however they lack the periodontal ligament, so they will feel slightly different than natural teeth during chewing.
Westside Endodontics uses internationally recognized implants from Niobel BioCare and Straumann should the need arise.